Afternoon Tea with the Literature Department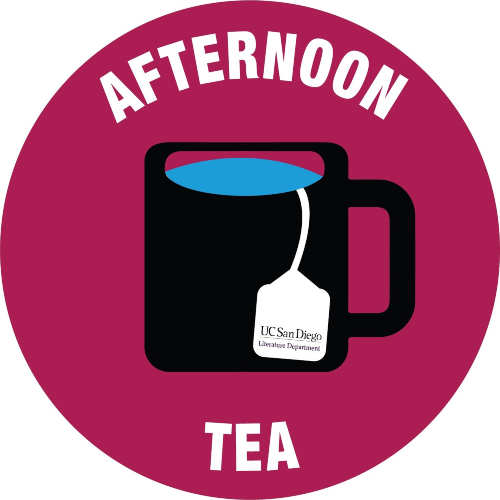 What is Afternoon Tea?
Afternoon Tea with the Literature Department is a monthly meeting in which presenters—MFA and Literature graduate students and professors—share their critical and creative work on a common theme. Speakers give 10-12 minute "flash talks," followed by a Q&A and open discussion. The event is a "no-pressure" and informal space for our speakers to comfortably share their projects at any stage and receive wide-ranging feedback.
Our Mission Statement:
Afternoon Tea aims to foster a sense of community within the UCSD Literature department by providing the opportunity for its members to exchange ideas, engage in critical dialogue, and make connections with one another.  It further seeks to provide a space for participants to learn more about the exciting projects underway in the department and support each other in the writing and research process.
Organizers:
Jessica Aguilar
Marina Vlahakis
Phuong Vuong
Shannon Welch
*Let us know if you'd like to join our team!
Collaborative Bibliographies:
For each meeting, we send out an invitation to edit and add to a collaborative bibliography pertaining to the themes of the meeting. We encourage participants to share book recommendations, articles, citations, pieces of writing, etc. that can help us to think through the topic from multiple perspectives and with different focal points.
Here is a link to the folder containing current and past collaborative bibliographies:
https://drive.google.com/drive/folders/1g1XoSIRhLbF4jnUWYmR7z6DtJQZCTeFB?usp=sharing
List of Values:
Below is a link to a list of values that we share with presenters and audience members to help guide our community interactions during the meetings and build a more collective and just space. We invite all participants to contribute to creating and editing this list.
https://docs.google.com/document/d/1spjJ6p7T7dyhkhoHNnjkHALcyrCuIprQiIenHW6ABmg/edit?usp=sharing
Our History:
Afternoon Tea was started in the Fall of 2017 by graduate students, Eunice Lee, Marina Vlahakis, and Shannon Welch, after hearing of the idea from Professor Amelia Glaser during her graduate seminar. Initially, graduate students and professors gathered together bi-weekly to meet one another and discuss their research interests over tea and light refreshments. Oftentimes one guest speaker presented his/ her/ their work and had the opportunity to take questions and comments from the group. In 2019, we opened up attendance to other departments to generate exciting new connections within the larger UCSD community. Since the outbreak of COVID-19, we have moved our meetings to Zoom, but this has not prevented us from engaging in dynamic and fruitful discussions with one another. We actually have used this time as an opportunity to try out a new structure for Afternoon Tea—implementing the "flash talks" and inviting multiple speakers to present about a common topic. The group, however, is always evolving and we invite feedback and suggestions for how to best run our events.