Kathryn Walkiewicz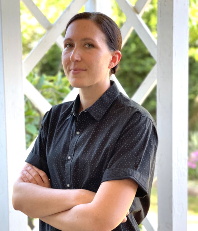 Primary Office:  6th College Bldg 1/Ridge Walk
                         Room 270
Primary Phone:

 

534-3488


Quarterly Office Hours



Email:

 

kwalkiewicz@ucsd.edu 
Kathryn Walkiewicz (walk-uh-wits) is an Assistant Professor of Literature at UC San Diego and an enrolled citizen of Cherokee Nation/ᏣᎳᎩᎯ ᎠᏰᎵ. They received their B.A. from Kenyon College, M.A. from the University of New Mexico, and Ph.D. from the University of Illinois, Urbana-Champaign. Professor Walkiewicz's research and teaching interests include Native American and Indigenous studies, print culture, early American literature and culture, C19 studies, Southern studies, speculative fiction, and horror. Their research has been supported by a Hellman Fellowship, the Faculty Career Development Program, and an NEH Long-term Fellowship at the American Antiquarian Society.
Pronouns: she/they
Affiliated Faculty, Ethnic Studies Department & Critical Gender Studies

Selected Publications
Books
Reading Territory: Indigenous and Black Freedom, Removal, and the Nineteenth-Century State. Chapel Hill: University of North Carolina Press (forthcoming 2023). 
The People Who Stayed: Southeastern Indian Writing After Removal. The University of Oklahoma Press, 2010. Co-edited with Geary Hobson and Janet McAdams.
Scholarly Articles
"Indigeneity, El Caminos, and Werewolf Politics in Stephen Graham Jones' Mongrels." ASAP/Journal 6, no. 2 (2021): 403-30. <muse.jhu.edu/>.
"Pressing for Sequoyah: Print Culture and the Indian Territory Statehood Movement" J19: The Journal of Nineteenth-Century Americanists 6, no. 2 (Fall 2018): 335-364. <muse.jhu.edu/>.

"Affirmative Exclusions: The Indigenous Exception in Oklahoma's Official English" NAIS: Journal of the Native American and Indigenous Studies Association 3, no. 2 (Winter 2016): 25-44. <muse.jhu.edu/>.

"Portraits and Politics: The Specter of Osceola in Leaves of Grass." Walt Whitman Quarterly Review 25, no. 3 (Winter 2008): 108-115. <doi.org/10.13008/2153-3695/1842>.
Reviews
Review of Katherine Agyemaa Agard's of colour, The Rumpus.net, posted November 24, 2021. <therumpus.net/2021/11/of-colour-by-katherine-agyemaa-agard/>.
Review of Kirby Brown's Stoking the Fire: Nationhood in Cherokee Writing, 1907-1970, Adam Spry, Our War Paint is Writers' Ink: Anishinaabe Literary Transnationalism, and Ariel Zatarain Tumbaga's Yaqui Indigeneity: Epistemology, Diaspora, and the Construction of Yoeme Identity for American Literature 93, no. 1 (2021): 151-153. <doi.org/10.1215/00029831-8878578>.
Review of Jason M. Yaremko's Indigenous Passages to Cuba, 1515-1900. NAIS: Journal of the Native American and Indigenous Studies Association 4, no. 2 (2017): 119-120. <muse.jhu.edu/>.
"Antislavery's Contingent Cartographies." Review of Martha Schoolman's Abolitionist Geographies. Common-place 16, no. 2 (Winter 2016). <http://commonplace.online/article/antislaverys-contingent-cartographies/>.