Andrea Mendoza
Assistant Professor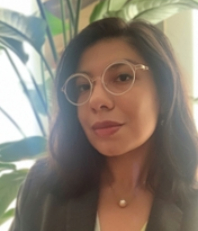 6th College Bldg 1/Ridge Walk
Room 233
Mail Code: 0410

Profile
Publications
Research/Creative Interests
Profile

Ph.D. (Cornell University)

Assistant Professor of Japanese and Comparative Literature

Office Hours

Andrea Mendoza holds a Ph.D. from Cornell University (August 2019) and a B.A. from Connecticut College (May 2013). Her research and teaching areas combine the studies of 20th and 21st century East Asian and Latin American literatures and visual cultures; transpacific studies; feminist and gender studies; critical race studies; and intellectual history. Her current projects focus on developing an intersectional and transpacific approach to comparing philosophical, literary, and cinematic discourses on race and racism in Mexico and Japan and their role in constituting ideas about national identity in the twentieth century. During her Ph.D. and B.A., her research received funding from the Woodrow Wilson National Fellowships Foundation, the Social Science Research Council, the Mario Einaudi Center for International Studies at Cornell University, the Foreign Language and Area Studies Fellowship, and the Mellon Mays Undergraduate Fellowship Program.
Publications

"Nonencounter as Relation: Cannibals and Poison Women in the Consumption of Difference." Verge: Studies in Global Asias 3, no. 2 (2017): 118-143. 
Research/Creative Interests

Coming soon...