Ph.D. Overview
Note
As there may be difficulty in accessing GRE testing sites during the Covid-19 pandemic, the GRE General Test is
optional
for our Literature PhD Program Fall 2021 admissions applications. Please contact us as at
litgrad@ucsd.edu
 if you have any questions.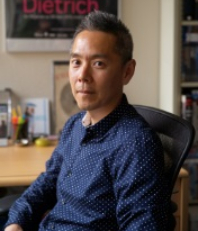 Daisuke Miyao
Director of Doctoral Studies 2020-2021
Welcome
The Department of Literature at the University of California, San Diego has a complex and unusual structure in that unlike more traditional departments of English or Comparative Literature, we study and in turn train students to examine world literatures and cultures in multiple languages within a single program. Organized in 1963, the Department represents a pioneering attempt to gather together a group of scholars, critics, and writers committed to research and debate on transnational and interdisciplinary issues. Faculty and students working in different linguistic and cultural areas were brought together by the belief that contemporary scholarship – and the scholarship of the future—could no longer remain within traditional disciplinary or national boundaries. Now, fifty years later, we see that this is more the case than ever.
The organization of the Department of Literature is unusual within the UC system in that it is neither a department of English nor a department of Comparative Literature as either is traditionally construed. Rather, from its beginning, the Literature Department at UCSD has aimed to be a department of world literatures and cultures within a single unit committed to the multilingual historical study of the connections and conflicts between cultures and societies. This commitment includes the ambitious project of teaching and conducting research in Chinese, English, French, German, Greek, Hebrew, Japanese, Italian, Korean, Latin, Russian, and Spanish, as well as the study and practice of writing. While we offer ten undergraduate majors, at the graduate level we offer a single Ph.D. in Literature to emphasize the transnational outlook of our program and to underscore its stake in theoretical, interdisciplinary, and cultural studies.
The Ph.D. program in the Department of Literature at UCSD offers an intriguing example of how the Humanities can renew their place in today's university by reconfiguring literary and cultural studies in an era of unprecedented global exchange. The collective strengths of our diverse faculty suggest ways in which it is possible to develop theoretical sophistication and openness to various forms of cultural production while remaining sensitive to the nuances of the literary text; to be up-to-date in the exploration of contemporary culture without losing sight of the rich historical legacy that extends back to antiquity; to offer fresh looks at familiar works while remaining attuned to new voices in contemporary culture and receptive to those who have not been clearly heard in the past; to place local concerns in global context/ to remain multi-lingual even as English becomes the dominant global language in an era of Hollywood film, trans-national corporate influence, and the Internet; and to remain aware of the discipline of literary studies and its history even as we move increasingly into interdisciplinary work.