Géraldine Fiss
Associate Teaching Professor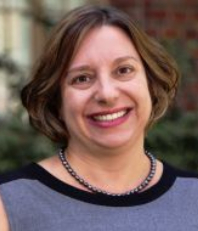 6th College Bldg 1/Ridge Walk
Room 351
Mail Code: 0410

Profile
Publications
Research/Creative Interests
Profile

Ph.D. (Harvard University)

Associate Teaching Professor in Inter-Asia and Transpacific Studies: China Focus

Affiliated Faculty with Chinese Studies

Office Hours

Géraldine Fiss received her Ph.D. in East Asian Languages and Civilizations from Harvard University, and her B.A. in East Asian Languages and Literatures and German Literature and Culture Studies from Smith College. Her work lies at the intersection of modern Chinese literature, culture and film studies; comparative literature; women's studies; and interdisciplinary studies in literature and the environment. She is interested in tracing the cross-cultural nexus of forces that influence literary, cultural and cinematic production in modern China and throughout East Asia in the early modern, modern and contemporary periods. In particular, her research illuminates the ways in which Chinese poets, writers, thinkers and filmmakers synthesize modern Western (especially German) and non-Western impulses with classical Chinese aesthetics to create new, distinctly Chinese modern (and modernist) works and philosophical ideas. In her current research, she is focusing on modern and contemporary Chinese poetry and cinema, and the trans-cultural influences that inform these literary and visual modes. Simultaneously, she is also doing research on the Chinese New Documentary Film Movement, particularly contemporary women's films, which often present a disruptive counter-discourse to the predominant cultural mainstream. In addition, she studies and teaches Chinese feminism and women's literature; the genre of the fantastic in modern East Asian literature and film; and Chinese as well as East Asian ecocriticism, ecoliterature and ecocinema.
Publications

Fiss, Géraldine. "Black Night Consciousness and Ecofeminist Poetics in the Works of Zhai Yongming." the Rocky Mountain Review of Language and Literature, volume 76, no. 1, Spring 2022. 62-82.


"From Du Fu to Rilke and Back: Feng Zhi's Modernist Aesthetics and Poetic Practice." Chinese Poetic Modernisms. Brill, 2019. 38-56.


"Ding Ling's Feminist Writings: New Women in Crisis of Subjectivity." Routledge Handbook of Modern Chinese Literature. Routledge, 2019. 343-355.


"Münchhausen Travels to China: Xu Nianci Transforms a German Tale into Chinese Science Fiction." A New Literary History of Modern China. Belknap Press of Harvard University Press, 2017. 196-201.


Co-editor with Li Guo. Frontiers of Literary Studies in China Special Issue Women, Writing and Visuality in Contemporary China, vol. 11, no. 1, 2017.


"Feminine and Masculine Dimensions of Feminist Thought and Transcultural Modernism in Republican China." Frontiers of Literary Studies in China Special Issue Nation, Gender and Transcultural Modernism in Republican China, vol. 8, no. 1, 2014. 101-125.


"Dismembering the New Woman: Expressionist Visuality and Literary Innovation in the Works of Mu Shiying." Forthcoming in Transnational Modernism and Urban Conflict in the Interwar Era. Routledge.
Research/Creative Interests

Coming soon...