Careers in Literature
What comes after college is probably the chief question for people considering a Literature degree, and our Department has multiple resources to help you answer it for yourself.  The scary--and exciting and liberating--thing is that no one has pre-written a simple script for you to follow: you write your own.  That might take more clarity, courage, and creativity than the majors with obvious or prefabricated job trajectories, but it also means you can tailor a career path that satisfies the full range of who you are and what you most need in life, from financial security to intellectual stimulation, creative expression to social justice, geographic and family stability to international adventure.  We are here to help, right from your first year in the major, with advising staff who invite you to walk in and brainstorm plans any weekday, faculty who are interested in you and available to meet one-on-one in their offices and over coffee, and a Senior Seminar (open to ALL years) to connect you to internships, industry jobs, graduate school prep resources, and recent Literature alumni who can tell you about where they are now and how they got there.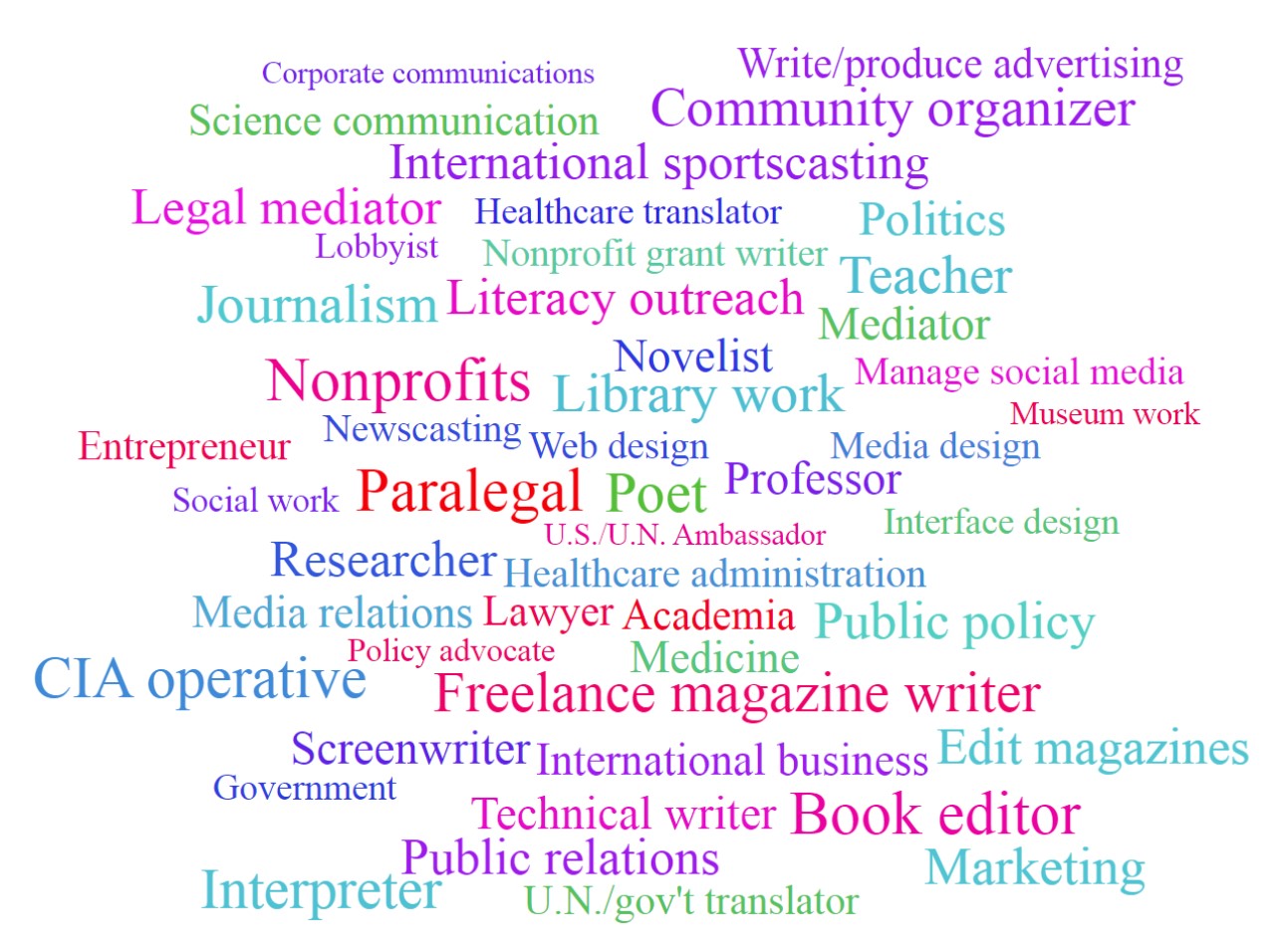 The Bureau of Labor Statistics projects job growth (through 2026) for writers and authors, librarians, and lawyers that matches the national average, a stable number of jobs for editors, and much higher than average job growth for translators, college educators, museum workers, and technical writers, just as a sampling of possibilities.  A Literature degree equips you with specialized, sophisticated skills in reading and writing, critical thinking, research, organization, and communication, while also asking you to learn about history, philosophy, economics, politics, and other languages and cultures.  Medical schools seek out students who are prepared not only in the sciences, but also in the humanities and writing, and businesses and government agencies are actively recruiting graduates with strong communication skills and specialities in multiple languages.  In fact, the # 1 trait employers list as desirable is written communication skills (82% want this, as compared to 59% for technical skills and 55% for computer skills).  Some of our graduates are novelists and screenwriters, others craft the narratives for video games, and still others teach, edit, run businesses, and pursue graduate degrees in related fields.  Find out how you can leverage your Literature degree into a future that is rewarding and secure.
Additional Campus Resources to Explore