Gabriel Bámgbóṣé
Assistant Professor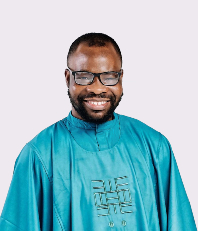 6th College Bldg 1/Ridge Walk
Room 337
Mail Code: 0410

Profile
Publications
Research/Creative Interests
Profile

Ph.D. (Rutgers University, New Brunswick)

Assistant Professor of African and Comparative Literature

Office Hours

Gabriel Bámgbóṣé completed his Ph.D. in Comparative Literature from Rutgers University, New Brunswick. He received an M.A. in English from the University of Ibadan and a B.A. (ED) in English from Tai Solarin University of Education in Nigeria. Before joining UCSD, he taught in the Department of English at Tai Solarin University of Education, the Africana Studies Program at New York University as a Fulbright Foreign Language Teaching Assistant (FLTA), and the Program in Comparative Literature at Rutgers University, New Brunswick.

Bámgbóṣé's current research project focuses on how African women poets and intellectuals writing from São Tomé and Príncipe, Senegal, and Nigeria engage with négritude poetics in their radical critique of colonial modernity. He works with 20th- and 21st-century poetic texts in English, French, Portuguese, Yorùbá, and Pidgin. His research has been supported by a Mellon/ACLS Dissertation Completion Fellowship from the American Council of Learned Societies and a University and Louis Bevier Fellowship from Rutgers University, among others.

Bámgbóṣé's research and teaching areas include poetry and comparative poetics; Black modernist poetics and philosophy; continental, archipelagic, and diasporic African literatures; African women's poetry; African folklore and popular culture; Black/African feminist, postcolonial, and decolonial thoughts; translation and critical literacy studies.

As a poet, Bámgbóṣé writes in English and Yorùbá. His poems have appeared in Ake Review, Ideas & Futures, Footmarks: Poems on One Hundred Years of Nigeria's Nationhood, Àtẹ́lẹwọ́, and others. He is currently working on a poetry manuscript tentatively titled di.stance and has performed some of the poems in this ongoing project at the 2022 Genesis Festival of New Voices and New Plays, the Crossroads Theatre, New Brunswick.
Publications

Articles

"Reimagining Transracial Intimacy: The Cartography of Decolonial Love in Leila Aboulela's 'Something Old, Something New' & Tomi Adeaga's 'Marriage and Other Impediments.'" African Literature Today 39 (2021): 126-137.

"The Tradition of Black Poetry," with Kehinde Amore. Contemporary Humanities 8 (2015): 1-19.

"Modern African Verse and the Politics of Authentication." CLCWeb: Comparative Literature and Culture 16, no. 1 (2014): 1-10.

"The Black Man's Ordeals: A Postcolonial Reading of Kofi Anyidoho's AncestralLogic & CaribbeanBlues." The African Symposium 13, no. 1 (2013): 34-41.

"Naturalist Aesthetics in John Millington Synge's Riders to the Sea and The Playboy of the Western World." Humanicus 8 (2013): 1-20.

"Reading with an Eagle-Eye: The Theory and Practice of African New Criticism." The Criterion: An International Journal in English 12, (2013): 1-9.

"Modern African Poetry and the Issues of Gender: The Nigerian Literary Scene." Research on Humanities and Social Sciences 2, no. 11 (2012): 94-105.

"Satire in Yoruba Oral Poetic Forms: A Study of 'Opepere' Song in Ondo Town." Journal of Studies in Humanities 3 (2011): 115-131.

Book Chapters

"Images of Colonialism in the Text of Two African Female Poets." Exploitation and Misrule in Colonial and Postcolonial Africa, ed. Kenneth Kalu and Toyin Falola (Palgrave Macmillan, 2019), 77-99.

"Beyond Gender Allegory: A Postcolonial Reading of Lola Shoneyin's Poetry." Literary and Linguistic Perspectives on Orality, Literacy and Gender Studies: A Festschrift for Oluwatoyin Bimpe Jegede, ed. Ayo Osisanwo et. al. (Kraft Books, 2018), 155-169.

Book Reviews

"Review of Poetry, Print, and the Making of Postcolonial Literature by Nathan Suhr-Sytsma." Journal of the African Literature Association 12, no. 3 (2018): 349–350.

Poetry

Something Happened After the Rain: Poems (Partridge Africa, 2014).
Research/Creative Interests

Coming soon...