Silpa Mukherjee
Assistant Professor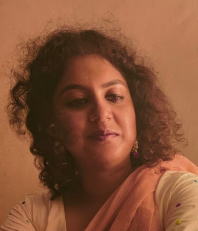 6th College Bldg 1/Ridge Walk
Room 235
Mail Code: 0410

Profile
Publications
Research/Creative Interests
Profile

Ph.D. (University of Pittsburgh)

Assistant Professor of Film and Media, Global South, and Cultural Studies

Office Hours

Silpa Mukherjee received a Ph.D. in Film and Media Studies from the University of Pittsburgh and an M.Phil. in Cinema Studies from Jawaharlal Nehru University. Her research and teaching interests include feminist historiography, informal media industries, media beyond legality, South Asian cinema, South Asian media culture in diaspora, and South by South networks. She has also written on Bombay cinema's hypersexualized song-and-dance sequences, popularly known as "item numbers."

Her current book project theorizes cinema as contraband by mapping illicit transregional corridors between South Asia and the Middle East that entangled a local cinema in global capital, speculative finance, and affective, legal, and material border breakings. Mukherjee's research has been supported by the Andrew W. Mellon Foundation and the American Council of learned Societies.

Mukherjee has also served as the Assistant Editor of JCMS: Journal of Cinema and Media Studies (2018-2022). As part of the editorial team, she received a Distinguished Service Award from Society for Cinema and Media Studies in 2023.
Publications

Articles

"Aural Sleaze in Urban Mohalla: Loudness and the New Digital Sonotope of Item Numbers" in South Asian Popular Culture 20.1 (2022) pp. 47-60.

"Behind the Green Door: Unpacking the Item Number and Its Ecology," BioScope: South Asian Screen Studies 9.2 (2019) pp. 1–25.

"High-octave soprano to auto-tuned rapper: Item numbers and technologies of sonic eroticism," The Soundtrack, 9.1-2 (2017), pp. 59–71.

"Fantasy to media-induced hallucination: The journey (or the lack thereof) of science fiction in Bengali cinema," Studies in South Asian Film & Media 6.2 (2014) pp. 165–184.  

Book Chapters

"Starry Nights: 1980s Bombay and Disco as Contraband" in Mimi Haddon, Michael Lawrence, and Arabella Stanger ed. Disco! Global and Temporal Expanses of Music, Dance, and Style, Duke University Press (forthcoming, 2023).

"Censored, Curated, Licensed: Item Numbers after Film" in Siddharth Narrain ed. The Act of Media: Law, Media, and Technology in South Asia. SAGE – ICAS: MP Series of Edited Volumes in Open Access Debating the Political in Contemporary India and the Global South, 2022

"The Body and Its Multimedia Sensations: Forging Starry Identities Through Item Numbers" in Aysha Iqbal Vishwamohan and Clare M. Wilkinson (ed.) Stardom in Contemporary Hindi Cinema: Celebrity and Fame in Globalized Times. Singapore: Springer, 2020.

"Queer intimacies in the time of new media: when Grindr produces alternative cartographies" in Kaustav Chakraborty (ed). The Politics of Belonging in Contemporary India: Anxiety and Intimacy. London, New Delhi: Routledge. 2019.
Research/Creative Interests

Coming soon...