John D. Blanco
Associate Professor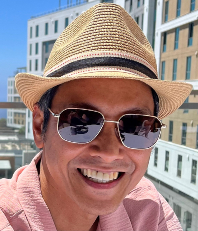 6th College Bldg 1/Ridge Walk
Room 392
Mail Code: 0410

Profile
Publications
Research/Creative Interests
Profile

Ph.D. (UC Berkeley)

Associate Professor of Comparative Literature, Spanish and Cultural Studies

Office Hours

Affiliated Faculty for Department of Ethnic Studies
2014-2014 Center for the Humanities Faculty Fellow

John D. (Jody) Blanco received his BA (with honors) from Arts and Ideas in the Residential College at University of Michigan, Ann Arbor; and his MA and Ph.D. from the Department of Comparative Literature at UC Berkeley, California. His research interests concern the colonial roots of globalization between the 16th-19th centuries. The contexts that inspire this investigation range from the Spanish empire in the Americas and the Philippines, to the spread of Christianity in the modern period, to the philosophy of modernity and Eurocentrism, comparative forms of imperialism and anti-colonial struggles, and the legal, religious, and racial dilemmas and contradictions of post-colonial societies and states. Jody's courses engage with these themes in and through the study of Philippine, Latin American, Caribbean, and US minority literatures and cultures (religious, political, and artistic). He is the author of Frontier Constitutions: Christianity and Colonial Empire in the Nineteenth Century Philippines (UC Press 2009; UPhilippines Press 2010); and the translator of Julio Ramos's Divergent Modernities in Latin America: Culture and Politics in the Nineteenth Century.

Undergraduate courses (selected):
LTAM 130 Reading North By South: The "Southern Question" in Literatures of the Americas
LTAM 132 The Dark Side of Enlightenment in the Americas and the Philippines
LTCS 150 Topics in Cultural Studies: The Archaeology of "Culture" as Idea and Ideal
LTEN 28 Introduction to Asian-American Literature and Culture
LTEN 181 Special Topics in Asian American Literature: Readings in Philippine Literature
Strategies of the Self
Philippine and Vietnamese American Diasporic Cultures
Asian Decolonization and the US Civil Rights Movement
LTSP 116 Representations of the Spanish Conquest
LTSP 140 La novela Latinoamericana
LTSP 174 Topics in Culture and Politics: Políticas culturales del ss. 19-20
La cuestión del "Oriente" y el orientalismo en América Latina
Antropología y narrativa latinoamericana en la formación de las identidades culturales
LTWL 140 Novel and History in the Third World
LTWL 158C Topics in Other Christianities: Christianity, Empire, and Revolution
LTWL 176 Literature and Ideas: Introduction to Philippine Literature in Tagalog
Graduate seminars (selected):
ETHN 289 Colonial Modernities and Decolonization in Asia and Africa
LTCO 283 Literature and Political Philosophy: Colonial Modernities of the Spanish Empire
Masses, Crowds, Hordes, and the Multitude
LTCS 250 The Poetics and Politics of Rupture
LTCS 255 Questions of Colonial Aesthetics
LTSP 252 Políticas del (neo-) Barroco
LTSP 272 (Pre-) Historias de la globalización en América Latina y la frontera trans-Pacífica
Publications

For a list of authored articles available for download (pdf), as well as sample course syllabi, see jdblanco.com

Selected publications:

"Orientations and Orientalizations of Philippine Nationalism in the Twentieth Century." in

 

Philippine Palimpsests

, eds. Martin Manalansan and Agusto Espiritu. Pub. Forthcoming [2014].

Co-editor (with Ivonne del Valle),

 

Política común

 

5 [forthcoming 2014]. Special issue on Carl Schmitt and early modern globalization in the Americas and Asia.

 

http://quod.lib.umich.edu/p/pc/

"Our Lady of Anarchy: Iconography as Law on the Frontiers of the Spanish Empire." in

 

Coloniality, Religion, and the Law in the Early Iberian World

, eds. Santa Arias and Raúl Marrero-Fente. Nashville: Vanderbilt University Press, 2014. 241-261.  

"Subjects of Baroque Economy: Creole and pirate epistemologies of mercantilism in the 17th century Spanish and Dutch (East) Indies" Encounters 1 (2009). 27-62.  

"La religión cristiana Filipina durante la época colonial: transculturación de las costumbres e innovación de las prácticas" in

 

Repensar Filipinas: Política, Identidad y Religión en la construcción nacional filipina,

 

Barcelona, Ediciones Bellaterra, 2009. 207-232.

Frontier Constitutions: Christianity and Colonial Empire in the 19th Century Philippines.

 

Berkeley: University of California Press, 2009.  

"1896-1996: Patterns of Reform, Repetition, and Return in the First Centennial of the Filipino Revolution" in

 

Positively No Filipinos Allowed

, eds. Antonio Tiongson, et al. Philadelphia: Temple University Press, 2005.

"The Pastoral Theme in Colonial Literature and Politics,"

 

Diliman Review

 

52: 1 (2005)

"The Gothic Underside of U.S. Imperialism"

 

Amerasia Journal

 

31:2 (2005)

"Baroque Modernity and the Colonial World: Aesthetics and Catastrophe in Nick Joaquin's

 

Portrait of the Artist as a Filipino

"

 

Kritika Kultura: An electronic journal of literary / cultural and language studies

,no. 4 (March 2004)  Kritika Kultura

"Transformations of the Blood Compact: International Law and the State of Exception in the 1896 Filipino Revolution and the U.S. Takeover of the Philippines,"

 

Postcolonial Studies

 

7.1 (Spring 2004)

"Bastards of the Unfinished Revolution: Bolívar's Ismael and Rizal's Martí at the Turn of the Nineteenth Century,"

 

Radical History Review

 

89 (Spring 2004)  

Translation with translator's foreword, Julio Ramos,

 

Divergent Modernities in Latin America: Culture and Politics in the Nineteenth Century

. Durham: Duke University Press, 2001.

Translation, with preface, of Carl Schmitt, "The Planetary Tension Between Orient and Occident and the Opposition Between Land and Sea" (originally published in Revista de Estudios Políticos 81 [1955]), Política común 5 [forthcoming 2014]. Special issue on Carl Schmitt and early modern globalization in the Americas and Asia.
Research/Creative Interests

Coming soon...