José Ignacio Carvajal Regidor
Assistant Professor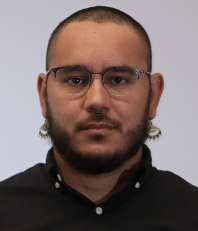 6th College Bldg 1/Ridge Walk
Room 340
Mail Code: 0410

Profile
Publications
Research/Creative Interests
Profile

Ignacio Carvajal (he/they), PhD (University of Texas at Austin) 

Assistant Professor of Spanish and Comparative Literature

Office Hours

Ignacio Carvajal obtained a PhD in Latin American Literatures and Cultures from the University of Texas at Austin. Their research interests include Indigenous responses to colonialism and evangelization during the early colonial period; pedagogical approaches to Indigenous language learning (especially K'iche'); Central American literatures and cultures; Poetry; Translation, and Digital Humanities. He also writes and translates poetry.
Publications

Selected Publications
Carvajal Regidor, Ignacio, María Paz Carvajal Regidor, Marta Elena Carvajal Regidor, Mónica Carvajal Regidor. "Many Central America(n)s: Language, Culture, and Pedagogical Approaches through the films Ixcanul (Guatemala 2015) and El Regreso (Costa Rica 2012)." in Teaching Central American Literature in a Global Context, Edited by Gloria Chacón and Mónica Albizures. The Modern Language Association of America, 2022, p. 101-111.

Carvajal Regidor, Ignacio. "From Ajawarem to Jurisdicción: Establishing Authority over People and Territory in the Highlands of Guatemala During the Sixteenth Century." The Latin Americanist, vol. 65, no. 3, 2021, p. 321-346.

Carvajal Regidor, Ignacio. "Exaggerate the Light to Say the Darknesses Dispelled: Reducción and the Dominican order in Antonio de Remesal's Historia general." Arizona Journal of Hispanic Cultural Studies, vol. 23, 2019, p 53-72.

Poetry
allow – a litany. La Resistencia Press, 2021.

Plegarias. El Suri Porfiado Ediciones; University of Houston & Casa Cultural de las Américas. 2019. 1st Place, Poetic Bridges Continental Contest.
Research/Creative Interests

Coming soon...