Ariana Ruíz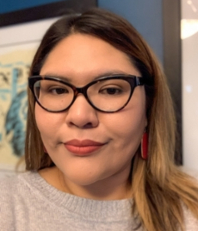 Ph.D. (University of Illinois, Urbana-Champaign)

Assistant Professor of Chicanx Studies
Primary Office: 6th College Bldg 1/Ridge Walk
                           Room 232
Primary Phone: 534-8974
Quarterly Office Hours

Email: aar002@UCSD.EDU
Ariana Ruíz received her Ph.D. in English and a graduate minor in Latina/o Studies from the University of Illinois, Urbana-Champaign in 2015. Before joining UCSD, she was an Assistant Professor of Spanish and Portuguese, and Latinx/a/o Studies at the University of Iowa. Ruiz is involved in two major grant projects funded by the Andrew W. Mellon Foundation—she is a co-principal investigator of the Sawyer Seminar on the Comparative Study of Cultures Grant, "Imagining Latinidades: Articulations of National Belonging," and is a key participant in the Humanities Without Walls Consortium Grant, "Building Sustainable Worlds: Latinx Placemaking in the Midwest." Her research and teaching areas include: Chicanx/Latinx literary and cultural studies; cultural citizenship; feminist and gender studies; critical race theory; and cultural geography. She is particularly interested in how travel and mobility are explored in Latina/x cultural expression.
Publications:
"Ex-Voto #7: Print Culture and the Creation of an Alternative Latinidad in the Work of Jim Mendiola." Latinx Ciné: Filmmaking, Production, and Consumption in the 21st Century. Ed. Frederick Luis Aldama. Tucson: U of Arizona P, 2019. 186-201.
Rev. of Dissonant Divas in Chicana Music: The Limits of La Onda, by Deborah R. Vargas. Latino Studies 12.1 (2014): 154-156.