Shelley S. Streeby
Professor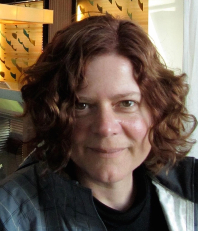 6th College Bldg 1/Ridge Walk
Room 280
Mail Code: 0410

Profile
Publications
Research/Creative Interests
Profile

Ph.D. (UC Berkeley)

Office Hours

Affiliated Faculty for Critical Gender Studies Program
Joint Appointment Department of Ethnic Studies
Recipient of UCSD Chancellor's Associates Faculty Excellence Award

UCSD Hellman Fellow

I am an author and educator whose interdisciplinary research is situated at the intersections of American Studies and Critical Ethnic Studies. I was a science fiction fan from the time I learned how to read, and growing up in a small Midwestern working-class city transformed by deindustrialization in the 1970s and 1980s made me always aware of the power and significance of social movement struggles over race, gender, science and technology. 

Now Professor of Literature and Ethnic Studies at the University of California, San Diego, these interests and commitments come together in my new book, Imagining the Future of Climate Change: World-Making through Science Fiction and Activism. I focus on social movements led by Indigenous people and people of color that are at the forefront of challenging the greatest threat to our environment: the fossil fuel industry. Their stories and movements—in the real world and through science fiction—help us all better understand the relationship between activism and culture, and how both can be valuable tools in creating our future. This book grew out of my work as Director, since 2010, of the Clarion Science Fiction and Fantasy Writers' Workshop at UCSD. 

Doing archival research is important to me in all of my projects. Instead of following the paper trails of rich and powerful people, however, I seek out archives that illuminate struggles over inequalities and reveal the power of outsider imaginations in shaping change. This was true of my earlier books that focused on the US-Mexico War and the radical transnational movements of the 1880s-1920s, and it is still true today. American Sensations: Empire, Amnesia, and the US-Mexican War (California, 2003), which received the American Studies Association's Lora Romero First Book Prize, was the result of years of digging into archives of forgotten best-selling war literature and responses to it, such as the stories of the California social bandit Joaquin Murrieta told by Chicanx and Mexican- and Chilean-origin people. For Radical Sensations: World-Movements, Violence, and Visual Culture (Duke, 2013), I spent a long time reconstructing the histories of radical social movements of the period, such as Black internationalist groups in New York City led by socialist Hubert H. Harrison and Mexican-led movements in Los Angeles such as Ricardo and Enrique Flores Magón's Partido Liberal Mexicano. 

Much of my recent research focuses on climate change and public education in the Octavia E. Butler Papers at the Huntington Library in San Marino, California. When the great science fiction writer died much too young in 2006, she left behind over 350 boxes of material, including newspaper clippings, story and novel drafts, letters, diaries, and journals. Calling herself a Histo-Futurist who extrapolates from the past and present to imagine the future, Butler drew on this material in crafting her fiction. I argue that the papers themselves are also an important form of "memory work." In the last few years, I have participated in a number of collective Public Humanities projects focused on Butler's memory. I held a fellowship at the Huntington in 2015 and in 2016 co-organized with Ayana Jamieson a major three-day conference at UCSD called "Shaping Change: Remembering Octavia E. Butler through Archives, Art, and World-Making." I also delivered a keynote at the June 2017 Huntington conference, "Octavia E. Butler Studies: Convergence of an Expanding Field," co-organized by Jamieson and Moya Bailey and participated in the year-long series of events that took place in in Butler's memory in Los Angeles in 2016-2017 called "Radio Imagination: Artists and Writers in the Archive of Octavia E. Butler," organized by arts collective Clockshop's Director Julia Meltzger. I am currently writing a new book entitled Speculative Archives about the future-facing memory work done by female science fiction writers who did extensive research and left behind large archival collections. 

I am also co-editing Keywords for Comics Studies for NYU Press with Ramzi Fawaz and Deborah Whaley. In 2014-2016 I was co-convener of a UCSD Humanities Center Working Group in Comics Studies and presented at the Comics Arts Conference as part of 2016 San Diego Comic-Con. One of the recent publications I am proudest of is my Aztlán essay on reading the comics of the great Jaime Hernández as speculative fiction. I am also proud to say it was recently reprinted in Altermundos: Latin@ Speculative Literature, Film, and Popular Culture, edited by Ben Olguin and Cathryn Merla-Watson. 

In the 1990s and early 2000s, much of my teaching connected city to empire in earlier periods of US history and made the case for the significance of the US-Mexico War and empire in Mexico and the Americas to US class and racial formations. Over the course of my career, I have taught a wide range of classes on nineteenth- and twentieth-century canonical and non-canonical US literature as well as other cultural forms, especially visual culture. I also lead classes on class and racial formations in connection to histories of colonialism, empire, and transnationalism from above and below, with a special emphasis on the US in relation to the Américas and Latinx in the US. As well, the cultural politics of places and spaces, particularly the US-Mexico borderlands; Los Angeles, San Diego, and greater Southern California; the Pacific Northwest; and 1880s-1930s Chicago and New York City are important to my teaching. Recent undergraduate courses include Race, Gender, Sexuality, Science Fiction; Culture, Art, Technology/World-Making and Imagining the Future in 2066; Shaping Climate Change; US-Mexico Border in Comparative Perspective; Methods for Interdisciplinary Research; Violence and Visual Culture; Imagination, Memory, and Culture; and Working-Class California. 

I regularly offer graduate seminars on a variety of research methodologies, including literary and cultural analysis as well as archival, Ethnic Studies, and Digital Humanities research. Most recently I led graduate classes on Transnationalism and Borderlands and Popular Culture and Pedagogy and look forward to creating new seminars on science, technology, labor, and social movements. In 2005-2006, I received the Chancellor's Associates Award for Excellence in Graduate Teaching. I have served on the committees of more than eighty PhD and MFA students who have completed their degrees, chairing and co-chairing many. I am proud to say many of my former students are enjoying notable careers teaching and doing important research at colleges and universities across the nation and throughout the world.  They also work as labor organizers, library archivists, and independent writers.
Publications

Books:

Imagining the Future of Climate Change: World-Making through Science Fiction and Activism. Berkeley: UC Press, 2018.

Radical Sensations: World Movements, Violence, and Visual Culture. Durham, NC: Duke University Press, 2013.

American Sensations: Class, Empire, and the Production of Popular Culture. Berkeley, CA: University of California Press (American Crossroads Series), 2002.

Edited Book: Wrote Introduction to and Co-Edited (with Jesse Alemán) Empire and the Literature of Sensation: An Anthology of Nineteenth-Century Popular Fiction. New Brunswick, NJ: Rutgers University Press (Multi-Ethnic Literature of the Americas Series), 2007.
Research/Creative Interests

Coming soon...