Sherley Anne Williams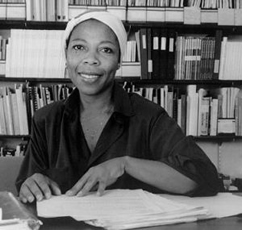 In Memoriam
October 1999
Professor Sherley Anne Williams passed away on July 6, 1999, after an intense and courageous struggle with cancer.
Sherley Anne Williams was a charismatic and inspirational teacher, nationally and internationally recognized as a writer of fiction, drama, and poetry. Her first book of poetry, THE PEACOCK POEMS (1975) was nominated for a Pulitzer Prize and a National Book Award; she won an Emmy Award for a television performance of poems from her second poetry book, SOMEONE SWEET ANGEL CHILE (1982), another National Book Award nominee. Her novel DESSA ROSE (1986), translated into German, Dutch, French and reprinted in a British edition, accorded her a place of prestige as a novelist in African American literature. She wrote two children's books, WORKING COTTON (1992), winner of the Caldecott Award and Coretta Scott King Book Award, and the recently published GIRLS TOGETHER. She is also the author of GIVE BIRTH TO BRIGHTNESS, a 1972 scholarly study of the hero in modern African American literature.
Sherley Anne Williams was a most important presence among us, as a colleague, teacher, creative writer, friend, and former department chair. She joined UCSD's Literature Department in 1973, received tenure in 1975, and served as chair from 1977 to 1980. She is mourned and is dearly remembered.
Sherley is survived by her son, Malcolm, three grandchildren, a sister and three nieces.
The Literature Department invites members of the campus community and the public to a memorial service on Thursday, October 21, 4:00 to 6:00 p.m. at the Mandell Weiss Forum Theatre.
Lisa Lowe, Chair