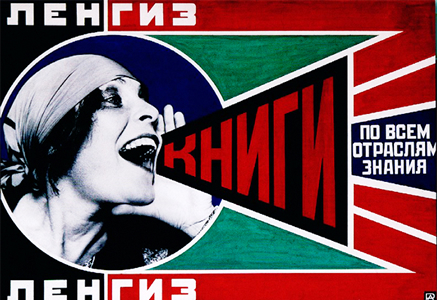 Aleksandr Rodchenko Poster
The Literatures in Russian Major
Literatures in Russian majors will take 3 language courses (LTRU 104 A, B, and C), and the three courses that constitute the Russian literature series (LTRU 110 A, which covers the first part of the 19th Century, B, which covers the second half of the 19th Century through the Bolshevik Revolution, and C, which covers literature from 1917 to the present). In addition to these six required courses, majors will choose from a selection of upper division LTRU (Russian Literature) courses. These include courses devoted a single author (such as Tolstoy, Dostoevsky, Gogol, or Nabokov), courses in Russian cinema, and thematic courses such as Russian Jewish Literature. If a course contains adequate Russian or East European content, but is not listed under LTRU, it is possible to petition to count this course toward the major. It is also possible to set up a directed reading with a faculty member in an area of Russian literature of your choice. We urge Russian majors to see one-on-one courses with a professor as an opportunity to work on an author of your choice in the original language. Each Russian major will also take a minimum of three literature courses outside the Russian section.
Russian majors may also count courses they have taken abroad toward the Russian major, and you are encouraged to spend part of your time as an undergraduate in Russia, Eastern Europe, or Eurasia. It is a good idea, before leaving for Russia, to meet with a Russian literature advisor, as well as a Literature Department staff member, to be sure that your credits will be automatically transferred.
We encourage Russian Literature Majors to become engaged in the large Russian community of San Diego by attending events on and off campus, and volunteering their time through academic internships. The Russian culture club, "Cactus" holds regular concerts and talks on the UCSD campus, which are open to the public. For more information about local events, please see the UCSD Russian and Soviet Studies Program page.
---
---