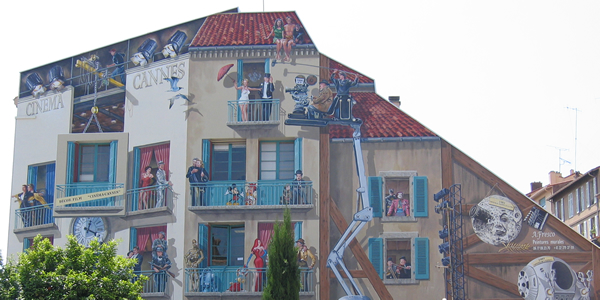 Cannes Film Festival, France
Photo by Deborah Morrow Yu
The Literature/Writing Major
"The thing I love about UCSD's literature/writing major is that the program gives you a lot of space to figure out your interests. There are so many genres available for you to explore. You can take a class in experiemental cross genre work or science fiction and fantasy. You can write epic poems. You can do whatever you need to do to grow as a writer.  The program is also situated within a larger literature department, so there's an understanding of the connection between reading deeply and writing deeply and you have access to all these amazing literature classes while you're taking writing workshops. For instance, I was able to take a world mythology class which gave me a deeper understanding of the archetypes I was using in my poems when I made mythological references. Also, the teachers are working writers passionate about their craft and that shows in the way they teach. I really enjoyed my time in the program."
-Keely Hyslop
BA in Literature/Writing, UCSD, 2006
Keely's book manuscript "Things I Say to Pirates on Nights when I miss you" was chosen by the SFSU's Michael Rubin Book Award.
---
"The writing program at UCSD set me on a course that has included journalism stints around the world and a book with University of Nebraska Press. I will always be grateful for the personal attention and guidance I received from my professors and the skills that I acquired under their tutelage."
- Katya Cengel (Class of 1998)



---

""I owe my journalism (and fiction writing) career to Professor Bob Dorn, who not only taught me about the craft, but also went way out on a limb to set me up with my first job--I went straight from La Jolla to a newspaper in Denver. Bob went to bat for me, and this book wouldn't be possible without him and all the other great UCSD professors who took the extra time to work with me. UCSD is internationally known for its science program, but the Lit Department has put out its share of stars, too: Rex Pickett, Rae Armantrout, Mike Judge, Quincy Troupe, Sam Popkin are all great credits to the university." -
James Anthony Perez-Giese (Class of 1996)