Prospective Students
Message from the Director of Undergraduate Studies
Margaret Loose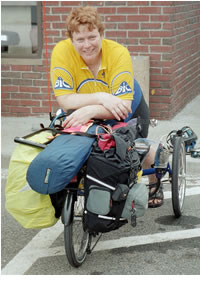 The Department of Literature at UC, San Diego is a place where the study of history and culture takes place through our analytical and creative engagement with various kinds of texts, i.e., literature (poetry, fiction, drama), literary theories and philosophy, film and other visual and multimedia productions (TV dramas, musical videos, photography among others). We believe that the earlier and more recent history of the world and its citizens can be most effectively grasped and thoroughly appreciated through an access to their cultural achievements.
We offer courses that can be grouped as eight distinct and yet overlapping and combinatory clusters.
• Literary Studies
• Creative Writing
• Film Studies
• Language Studies
• Translation Studies
• Cultural Studies
• Transnational/Trans-regional Studies and Globalization Studies
In addition to the horizons of knowledge and information about the world that the Literature Department courses open up, they teach foundational skills, i.e., critical reading, thinking and writing. These skill sets will prepare you for a wide range of careers and will prove to be your most prized and lifelong assets for the profession you choose for yourself upon graduation. Please refer to Careers in Literature. 
There are eleven undergradute majors and eleven undergraduate minors within the Literature Department. Below you will find an overview of each of the eleven majors. If you have any question about the Literature Department or our undergraduate program, please send an email to litprospective@ucsd.edu.
Link to Chronicle article: "Why STEM Majors Need the Humanities."
Application & Supplemental Literature Portfolio
For Freshman applicants, a completed UC Application is required to be considered for admission. Please contact the UCSD Admissions Office for more information about the UC Application.  Those who have completed the UC Application and are interested in pursuing a Literature major may submit an optional portfolio to enhance their overall application.  Students who select one of the Literature majors when applying to UC San Diego will receive a notice through the UC Application site with information regarding the portfolio and link for submission. Please note, you can prepare portions of your optional portfolio in advance, but you will not be able to submit it until your UC Application has been completed.  This portfolio is optional, and students can still be admitted to our majors without submitting the material.  More information and a link to Frequently Asked Question can be found at: http://artsandhumanities.ucsd.edu/resources/prospective-students/index.html.
The supplemental Literature portfolio consists of two short answers and a writing sample:
For students applying to the Literature/Writing major, the writing sample should be a piece of original writings (fiction, non-fiction, essay, play, screenplay, poetry, comics or cross-genre experimental writing).  It can be a well-chosen excerpt from a longer work, but it cannot exceed 1000 words.
For students applying to all other Literature majors, the writing sample should be your writing about literature (such as an analysis of a poem, play, novel or short story).  It can be a well-chosen excerpt from a longer work, but it cannot exceed 1000 words.
For Transfer applicants, only the UC Application is collected.  Transfer applicants do not submit portfolios.  Those interested in transferring to UCSD should contact the UCSD Admissions Office for more information about the application process and preliminary evaluation of your transfer credits. The Literature Department Undergraduate Advisor would also be glad to meet with you to discuss the Literature majors and department requirements. Students can reach the Undergraduate Advisor at litprospective@ucsd.edu.