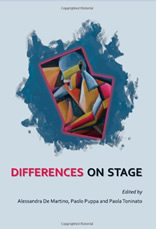 Publications by Pasquale Verdicchio
"Sophisticating Action: Gramsci and Theatre, or Can the Subaltern Act?" in Differences on Stage, A. De Martino, P. Puppa, P. Toninato eds. Cambridge Scholars Publishing, 2013.
 A BRIEF MEDITATION ON ITALIAN PHOTOGRAPHY in Italian Journal, Volume 20. Number IX, 2013.
TWO POEMS BY RENATA VIGANO' from MONDINE (1955) in Journal of Italian Translation, Luigi Bonaffini editor, CUNY, Fall 2013.