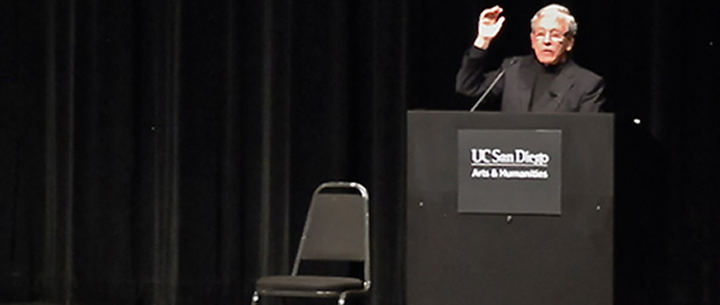 Renowned Israeli writer and peace activist
Amos Oz
delivers the Herman Wouk Visiting Lecture
Mandeville auditorium, April 22, 2013
Photo by Dirk Sutro, DAH
Upcoming Events
Lucetta Kam - "Lala: Community, Confrontations, And Creativity"
Tuesday, May 30th 2017 2:00pm
Literature Building, Room 155 (de Certeau)
A Lecture by Professor Lucetta Kam What is lala? How do lala women make sense of this new queer identity? How do they connect with each other socially, politically and creatively? The talk will offer an introduction of lala women in China by looking at their community, activism and the queer aesthetics of lala creative projects. Discussant: Gogo Speaker's Bio: Lucetta Kam is an assistant professor at the Department of Humanities and Creative Writing, Hong Kong Baptist University. She is the author of Shanghai Lalas: Female Tongzhi Communities and Politics in Urban China (2013). Her current research interests are transnational Chinese queer women communities and activism, queer popular culture and fandom. Discussant's Bio: Gogo is a co-founder and art director of the queer women magazine les+ (2005-2012) in China. She has curated the first gender diversity art exhibition (2008, Beijing) and has been the art director of the queer theatre productions "Rabbit Hole" and "Tower". Sponsored by UCSD Department of Literature, Chinese Studies Program, International Studies Queer Asias Working Group, and SPACES.