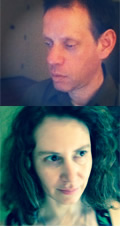 Much of recent work focuses on trauma: that which is unseen and unspoken, yet wields a distinct influence over our daily lives. In my work, I attempt to use innovative narrative and poetic structures to capture these felt experiences. For example, my book Dear Dearly Belovedconsists of a series of letters in which the narrator tries, and fails, and tries again, to make sense of an incredible loss. Loss becomes the subject, the desire, and the point of no return. In my novella Not Blessed, an unmentioned public trauma—war—disintegrates the shifting narrator's empathy, as he idealizes an idyllic childhood memory that cannot possibly be true. My hope is that my work will challenge the reader to rethink—both emotionally and intellectually—our relationships in an increasingly interconnected world.
                                                            --Harold Abramowitz
Harold Abramowitz is a writer and editor from Los Angeles.  His books include Blind Spot (forthcoming from Les Figues Press), Man's Wars And Wickedness: A Book of Proposed Remedies & Extreme Formulations for Curing Hostility, Rivalry, & Ill-Will (with Amanda Ackerman, forthcoming from Bon Aire Projects), UNFO Burns A Million Dollars (with Amanda Ackerman, Gauss PDF), Not Blessed (Les Figues Press), and Dear Dearly Departed (Palm Press).  He has contributed, alone and collaboratively, to various publications and anthologies, including Fold Appropriate Text, P-Queue, Ixnay Reader, String of Small Machines, Area Sneaks, A Sing Economy, The Physical Poets Volume 2, Moonlit, sidebrow, Source Material: A Journal of Appropriated Text, Sand, Abraham Lincoln, Aufgabe, MATERIAL, West Wind Review, and LIT.  Harold co-edits the short-form literary press eohippus labs (www.eohippuslabs.com) and writes and edits as part of the collaborative projects, SAM OR SAMANTHA YAMS and UNFO.
Organisms interact with other organisms to create worlds, create words. My work collapses distinctions between poetry and prose, and much of it arises from collaborative processes. However, I also think of narrative writing in ecological terms – recognizing that stories compete with other stories, often reframing or erasing each other – as when, for example, one story wishes to be the official version of events. On the flip side, stories call other stories into existence: they refract, allow, complement, and transform each other. I also see language as living, and not solely human, in origin. Therefore, I approach writing as a way of shifting our fields of interrelationship: our modes of proximity to and distance from each other, the nonhuman worlds, and to the Real itself. I attempt to make space for our humanimal feral selves.    
                                                        -- Amanda Ackerman
Amanda Ackerman is the author of the chapbooks The Seasons Cemented (Hex Presse), I Fell in Love with a Monster Truck (Insert Press Parrot #8), and Short Stones (Dancing Girl Press). She has co-authored Sin is to Celebration (House Press), the Gauss PDF UNFO Burns a Million Dollars, and the forthcoming novel Man's Wars And Wickedness (Bon Aire Projects). She is co-publisher and co-editor of the press eohippus labs. She also writes collaboratively as part of the projects SAM OR SAMANTHA YAMS and UNFO. Her book The Book of Feral Flora is forthcoming from Les Figues press.