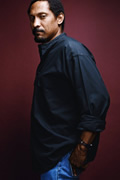 PERCIVAL EVERETT is the author of more than twenty novels, three collections of short fiction, and two volumes of poetry. Among his novels, all published by Graywolf, are Percival Everett by Virgil Russell (2013), Assumption (2011), I Am Not Sidney Poitier(2009), The Water Cure (2008), Wounded, Glyph, Erasure, Zulus,Watershed, and God's Country. His poetry collections are Swimming Swimmers Swimming (2011) and re: f(gesture), both published by Red Hen Press.

MONICA MODY's KALA PANI just came out from 1913 Press. Mody has published three chapbooks of poetry & cross-genre experiments, and her writing has appeared in The Harper Collins Book of English Poetry, &Now Awards 2: The Best Innovative Writing, Boston Review, The Volta, iARTistas, and Paragraphiti, among other places. Mody is a contributor to Montevidayo and is currently completing a Ph.D. in East-West Psychology at San Francisco.
SAWAKO NAKAYASU writes and translates poetry, and also occasionally creates performances and short films. Her most recent books are The Ants (Les Figues, forthcoming 2014) and a translation of Sagawa Chika's Collected Poems (Canarium Books, forthcoming 2014). Other books include Texture Notes (Letter Machine Editions, 2010), Hurry Home Honey (Burning Deck, 2009), and Mouth: Eats Color – Sagawa Chika Translations, Anti-translations, & Originals, which is a multilingual work of both original and translated poetry. She has received fellowships from the NEA and PEN, and her own work has been translated into Japanese, Norwegian, Swedish, Arabic, Chinese, and Vietnamese. More information can be found here: http://sawakonakayasu.net/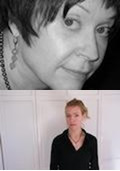 GILLIAN CONOLEY was born in Austin Texas, where, on its rural outskirts, her father and mother owned and operated a radio station. She is the author of seven collections of poetry, including THE PLOT GENIE, PROFANE HALO, LOVERS IN THE USED WORLD, and TALL STRANGER, a finalist for the National Book Critics Circle Award. Her work has received the Jerome J. Shestack Poetry Prize from The American Poetry Review, a National Endowment for the Arts grant, and a Fund for Poetry Award, and is widely anthologized, most recently in W.W. Norton's new Postmodern American Poetry.  A new collection, PEACE, is just out with Omnidawn. Her translations of three Henri Michaux texts, never brought into English before, will appear with City Lights in fall 2014. Editor and founder of Volt magazine, she is Professor and Poet-in-Residence at Sonoma State University.
JULIE CARR is the author of six books of poetry, most recently 100 Notes on Violence (Ahsahta Press), RAG (Omnidawn), and the forthcoming Think Tank (Solid Objects). She's also the author of Surface Tension: Ruptural Time and the Poetics of Desire in Late Victorian Poetry (Dalkey Archive). She lives in Denver where she is the co-director of Counterpath Press. She teaches in the MFA program at the University of Colorado, Boulder.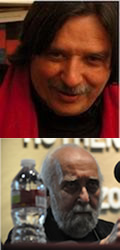 © Photo by Laurence
Barataud
JEAN PORTANTE was born in Differdange (Luxembourg) in 1950. He is of Italian origin. He lives in Paris. He has written more than fifty books, novels, stories, plays, essays, translations and poetry, and has been widely translated. His books have been published in Luxembourg, France, Belgium, Switzerland, Québec, Ireland, Italy, Rumania, Bulgaria, Portugal, Germany, Slovakia, Serbia, Argentina, Colombia, Mexico, Great-Britain, etc. He translated to the French poets like Juan Gelman, Jerome Rothenberg, Pierre Joris, John Deane, Gonzalo Rojas, Edoardo Sanguineti, Valerio Magrelli, Durs Grünbein, etc. In 2003 his book L'Etrange langue was given the Mallarmé award in France, and the same year Portante was given, in France, the Grand Prix d'Automne de la Société des Gens de Lettres, for his entire work. In 2005, French editor Le Castor Astral published a personal anthology, La Cendre des mots, containing a selection of his work from 1989 to 2005. In January 2014, Luxembourgish editor PHI has published his collected work, Le travail d la baleine, trente ans de poésie.
As a novelist, Jean Portante published, among others, Mrs Haroy ou la mémoire de la baleine, translated into many languages. He is also the author of a biography about Allen Ginsberg: Allen Ginsberg. L'autre Amérique. Le Castor Astral, 1999.
Since 2006, Jean Portante is member of the Académie Mallarmé, based in Paris.In 2008, he founded, in France, with the French poet Jacques Darras, the poetry magazine Inuits dans la jungle. In Luxembourg he is at the head of the literary magazine Transkrit dedicated to translation. In 2011 he was given the Luxembourg National Literature Award for his entire work. In English he has published: Point. Eraising, The Daedalus Press, 2003 and In reality, Seren Books, June 2013.
JEROME ROTHENBERG is an internationally known poet, translator, editor, and performer, with over ninety books of poetry and twelve assemblages of traditional and avant-garde poetry such as Technicians of the Sacred and Poems for the Millennium.  Recent books of poems include Gematria Complete, Concealments & Caprichos, A Cruel Nirvana, A Poem of Miracles, and Retrievals: Uncollected & New Poems 1955-2010.  His most recent big book is Eye of Witness: A Jerome Rothenberg Reader, co-edited with Heriberto Yépez, and he is now working on a global and historical gathering of "outside and subterranean poetry."