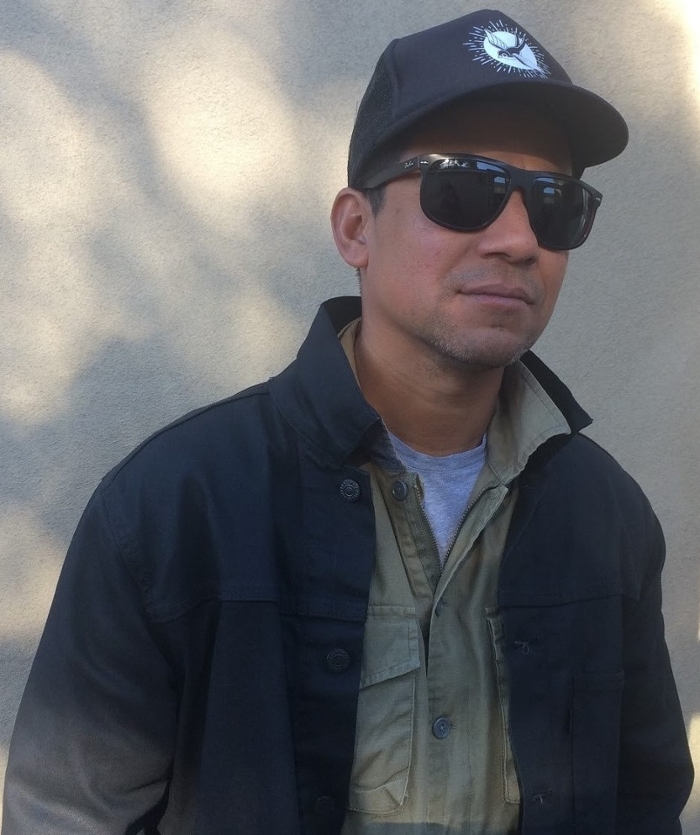 Manuel Paul López's books include These Days of Candy (Noemi Press, 2017), The Yearning Feed (University of Notre Dame Press, 2013), winner of the Ernest Sandeen Poetry Prize, 1984 (Amsterdam Press, 2010) and Death of a Mexican and Other Poems (Bear Star Press, 2006). He also co-edited Reclaiming Our Stories (City Works Press, 2016). A CantoMundo fellow, his work has been published in Bilingual Review, Denver Quarterly, Hanging Loose, Huizache, Puerto del Sol, and ZYZZYVA, among others. He lives in San Diego and teaches at San Diego City College.
Artist Statement:
from Miles Davis' Bitches Brew and Me
I like frenetic energy, I like dissonance, I like interplanetary flight patterns, I like unapologetic confidence verging toward self-conscious comedown, I like sloth spirit, I like uber vulnerable tube socks, I like contradiction, I like silence that pulsates with tension, silences that engage in epic timelines of extreme cogitation, I like high-flying off the turnbuckle Jimmy "Superfly" Snuka risk taking, I like monster mash, I like art like I like my albondigas, piping hot aromatic madness with nuanced flavors inspired by cultural, geographical and inter-generational markers. I like my art like I like Prince's "Batdance," all purpletechnic, angular, wise-ass and emancipatory. I like work that points toward fable and fairy tale, I like faint notes of surrealism, Dada-caca, Raskal Chicanx Poetiks, big-hearted lyrical-fronterismo-collage idioms, I like elliptical dream messaging derived from the ambulatory interior vita, I like art that surveils state-sanctioned surveillance, hyper-policing of person/hood, neighbor/hood and global/hood, atmospheric violence in its various iterations, loss and love, and most of all, I like art that initiates the slow asphyxiation of ego addiction.