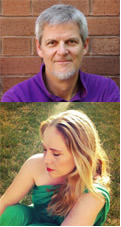 Heather Fowler
I like story collections that offer wild variety in voice and style—and authors who experiment with multiple genres.  I do experiment a lot with my work, which is why one day I'll be writing a book of alexandrine sonnets and the next working on a screenplay or a novel, but stories and poems are my favorite vices. This November, I'll be reading excerpts from my newest published collection, Elegantly Naked In My Sexy Mental Illness, which is a book of modern and historical stories about the mentally ill—and also some recent poems.  The latest collection was illustrated by graphic artist Pablo Vision from the UK and also features an artist's appendices. It was exciting to put together what I feel is a euro-centric book object. I hope to do more visually illustrated work for adults with fine artist collaborators. I also hope to do collaborations with music and text in the upcoming years. It's always wonderful and fun to incorporate different impulses in the work.
Heather Fowler received her M.A. in English and Creative Writing from Hollins University and will have completed an M.F.A. in Fiction Writing at the University of New Orleans by summer  2015. Heather Fowler is the author of the story collections Suspended Heart (2009), People with Holes (2012), This Time, While We're Awake (2013), and Elegantly Naked In My Sexy Mental Illness (2014). Fowler's People with Holes was named a 2012 finalist for Foreword Reviews' Book of the Year Award in Short Fiction and This Time, While We're Awake was represented by artist Kate Protage's artwork in the X-Libris 100 Artists, 100 Books 2014 Seattle art exhibit. Fowler's forthcoming collaborative poetry collection, Bare Bulbs Swinging, written with Meg Tuite and Michelle Reale, was the winner of the 2013 Twin Antlers Prize For Collaborative Poetry and will be released in November 2014. Her stories and poems have been published online and in print in the U.S., England, Australia, and India, and have appeared in such venues as PANK, Night Train, storyglossia, Surreal South, Feminist Studies, Short Story America, and more, as well as having been nominated for the storySouth Million Writers Award, Sundress Publications' Best of the Net, and multiple Pushcart Prizes. She is Poetry Editor at Corium Magazine. 
John Gery
As a classically trained poet, John Gery writes both formal and free verse; his work includes short, often Metaphysical poems on subjects such as grief, hatred, and grace, political diatribes, a book-length narrative poem on New Orleans during the Civil War, and a host of dramatic monologues by figures ranging from Charlemagne's daughter and Edouard Manet to Lee Harvey Oswald, an Iraqi war widow, and the canary in a mine. If he has a prevailing obsession, it is with ghosts and spirits – not only those of the dead, but those dwelling among and inside us, whose voices dictate our most intimate experience, even though we don't see them nor are sure they even exist. In his poetry, Gery's muses are doubt, melody, paradox, breathlessness, and candor. "No things/ without the ideas we call them by," he argues in his poem, "American Ghost," sparring with W. C. Williams and the century after. Gery's new collection gathers poems around lines taken from Hamlet, including his book's title, Have at You Now!, the words Laertes utters at the moment he stabs Hamlet with a poisoned-tipped foil. While also active as a critic, editor and teacher, Gery is currently at work on poems in the voices of birds, as well as a sequence of dramatic monologues entitled The Ledger of Good Women.
John Gery's books of poetry include Have at You Now! (2014), A Gallery of Ghosts (2008), Davenport's Version (2003), American Ghost: Selected Poems (1999), The Enemies of Leisure (1995), and others. His poetry has appeared in more than fifty journals in the U.S., Canada, and Europe, including Gulf Coast Review, The Iowa Review, New South, Paris Review, Poet Lore, Prairie Schooner, and West Branch, and has been translated into seven languages. He has received an NEA Fellowship, a Fulbright Fellowship (Serbia), and a Research Fellowship from the University of Minnesota, among other grants, and has lectured in Rome, Belgrade, Venice, Beijing, and at universities and colleges throughout the U.S.  Gery has also published a wide range of criticism on American poetry and is the author of Nuclear Annihilation and Contemporary American Poetry: Ways of Nothingness (1996). With Rosella Mamoli Zorzi, he wrote the guidebook, In Venice and in the Veneto with Ezra Pound (2007), and with Vahe Baladouni the biography, Hmayeak Shems: A Poet of the Spirit (2010). He has co-edited two collections of critical essays and two anthologies of contemporary poetry and has collaborated on translations of poetry from Serbian, Italian, Armenian, Chinese, and French. A Research Professor of English at the University of New Orleans, Gery founded and directs the Ezra Pound Center for Literature, Brunnenburg, Italy.